Apostle Edward E. Williams, Former Pastor, Establishmentarian, and Servant of the Lord
(August 7, 1921 – January 15, 2016)
Apostle Edward E. Williams was born August 7, 1921 to the late Sallie Miller in Louisville, Kentucky.  He was baptized in the Monongahela River, Pennsylvania and received the Holy Ghost in Wick Haven, Pennsylvania on  July 22, 1940.  As a brother of the Temple of God Church in Washington, PA., he  helped cut down trees and erect the Christ Pentecostal Church building which stands today as a beacon of hope for the community. 
In 1944 he married Ruth L .Wilbur, who he met while attending church at Apostolic Church of Christ in Columbus, OH. They moved to western Pennsylvania, where in 1944, while working as a coal miner, Edward heard the call of God to preach the gospel. In 1945, he was licensed to preach at the Pennsylvania State Conference, Washington, Pennsylvania, the Pentecostal Assemblies of the World (PAW), under the Pastorate of O.B. Johnson; and Chairman, District Elder Webb of Oak Mount, Pennsylvania.  Elder Edward E. Williams was ordained in 1954 by Presiding Bishop Samuel Grimes of  the PAW.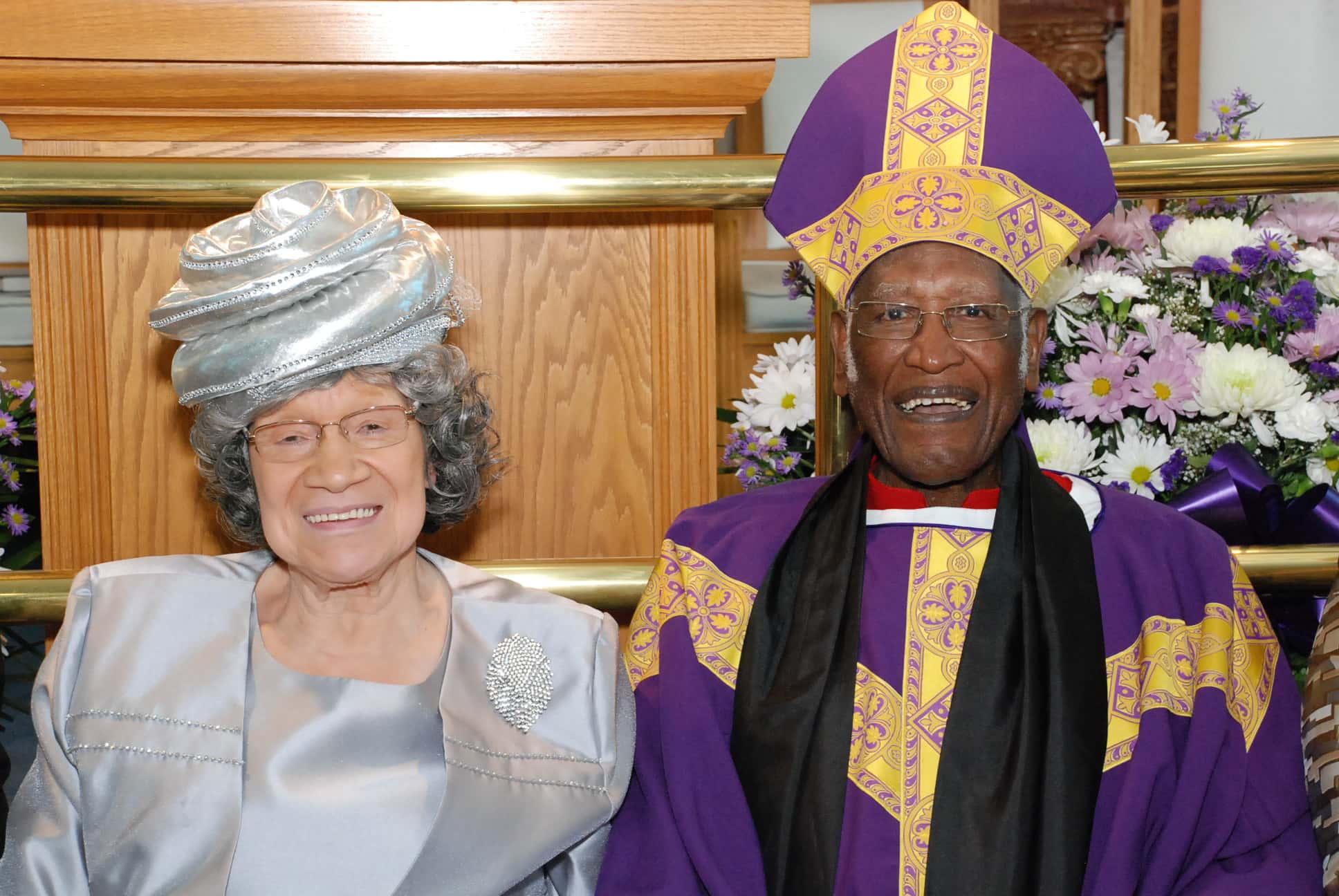 Apostle Edward E. Williams and Mother Ruth L. Williams
For over seven decades he proclaimed the standard of God's holiness and obedience.
Between 1944 and 1968 Elder Williams supported the leadership of many ministries: his Pastor and teacher, Bishop Carl Smith, Pastor of Christ Temple, Columbus, Ohio (1950); his friend and mentor, Bishop Winfield Showell, Pastor of the First Apostolic Faith Church, Baltimore, MD (1950-1953); Bishop Peter Bridges, Pastor of the Beulah Church of Christ, Brooklyn, NY (1956-1959); Christ Temple, Queens, NY, Pastored by Mother Ford (1960-1964); Morning Star Church (1964-1967), Harlem, New York. His first pastorate was at the Beulah Church of Christ, Brooklyn, NY, from 1966 through 1968.
On June 1, 1968, then Elder Edward E. Williams organized the Bible Way Church of God at 276 Buffalo Avenue, Brooklyn, New York. After ten years, he received a vision from the Lord to relocate the congregation to a place for a greater harvest of souls and a larger sanctuary in the Flatbush section of Brooklyn, New York – 2310 Cortelyou Road. Elder Williams led the congregation to pay off the mortgage  for this new building in only four years through the basic biblical principle of tithes and offering.  He served the Lord's church providing leadership, teaching, preaching, and pastoral counsel to the believers. Under his leadership the church participated in street ministry – preaching, singing, and inviting souls to Christ through personal witness in Flatbush, Brooklyn, and souls were added to the church. As a visionary, he developed the church school that gathered together after morning worship to acquire a deeper understanding of God's word for a disciplined life and dedicated service.  Because of his uncompromising commitment to the standard of righteousness, unwavering dedication to the cause of Christ, and profound dedication to the Lord's church, the Lord blessed him and the growing church.  He was an attentive under-shepherd to the church's needs and a faithful watchman guarding against danger.  His demonstrations of Christ centered love influenced the church family to genuinely reflect that love and fellowship. The church was richly blessed to have him as Pastor – a true sincere Pastor who compassionately cared for the sheepfold with word, deed and love.  His desire was that God would raise up a people that would obey.
In 1972, the District Elder Edward E. Williams, was elevated to the Bishopric and consecrated by the late Presider, Apostle Smallwood E. Williams of the Bible Way Church of Our Lord Jesus Christ organization.  He was appointed Diocesan Bishop to Jamaica West Indies where he served faithfully for eleven years. Bishop Williams was also appointed to the Office of the General Secretary by Presiding Apostle Smallwood E. Williams and served from 1985 through 1996.  He served as the Executive Secretary under four administrations for the organization beginning in 1983.
In addition to his pastoral ministry Bishop Williams was involved in the civil rights movement as an advocate for social justice for the vulnerable and voiceless. During the sixties, he participated with New York clergy in Operation Breadbasket under the leadership of the late Rev. Dr. William Augustus Jones. This was the Southern Christian Leadership Conference for the advancement and sustainability of families and individuals experiencing institutionalized racism and systemic segregation in the city of New York, throughout the United States, and overseas.  Operation Breadbasket targeted business franchises and city municipalities to change its hiring and promotional policies concerning African Americans.  Within the City of New York, Bishop Williams advocated for change among such organizations as Pepsi Cola, A & P, and the N.Y. Daily News paper where the hiring practices of African Americans in management positions was prohibited. His unashamed faith and his concern for the welfare of others lead him to initiate several interventions for the community through the church he pastored, such as a food and clothing pantry for those in need and the development of an educational tutorial for students of all ages . He understood the need to address the spiritual and natural needs of his brothers and sisters in the struggle. Bishop Williams' involvement in the campaign for social and economic justice led to his participation in many national demonstrations: the Poor People Campaign, the first and second March on Washington, and the1968 Sanitation Strike in Memphis, Tennessee. He involved his children in the non violent campaign against injustices and took his two oldest daughters to the home going service of the Rev. Dr. Martin Luther King, Jr.
From the coal mine and steel industries of Pennsylvania to working as a Postal Carrier for eleven years, Apostle Williams labored well in both the secular and sacred areas of life.  He was later employed as the Protestant Chaplain at Kings County Hospital Center, Brooklyn, NY providing pastoral care to patients, staff, and administrators throughout the hospital. He also served on the Chaplaincy Review Committee determining the eligibility of new chaplain applicants. As Chaplain, he involved the church in evangelistic ministry to patients at the psychiatric unit, the physical rehabilitation center, and the substance abuse recovery program for over ten years.  During this period he also involved the church in outreach ministry in the state and city correctional prison system. He resigned from the Chaplaincy after seventeen years of service.
In 2014, after years of demonstrated service and a spirit of excellence, Bishop Edward E. Williams was elevated to the Board of Apostles during the International Bible Way Church's Annual Holy Convocation.
Apostle Williams attended Aenon Bible School, Columbus Ohio and Manhattan Bible Institute, New York where he graduated with Bachelors in Theology.  He acquired a Master of Science in Pastoral Counseling from Iona College, New Rochelle, NY in 1981; then earned a Masters in Theology from the Community Bible Institute and Seminary / Lighthouse Christian College in May of 2000.  He has been presented with an honorary Doctorate in Divinity Degree from The Manhattan Bible Institute / Anchor Theological Seminary, on October 21, 1995 and the Community Bible Institute and Seminary / Lighthouse Christian College, on May 20, 2006.  In August 2010 at age 90, Bishop Williams was presented with his Masters in Social Work degree from Yeshiva University, Wurzweiler School of Social Work, New York.   Because of his deep appreciation for education and acquisition of knowledge he challenged members of the Pentecostal Church of God and others to pursue higher education and professional advancement. He encouraged people to make a difference in society and church members to apply their learning to the advancement of the Lord's church.  The blend of his humility and intelligence made an impactful impression on minds and hearts of all those around him.
Apostle Williams was a Pastor's Pastor. This was demonstrated by his spiritual intuitiveness, insight, inspiration, and wise counsel. He was supportive of ministries that were developing or established; and nurtured and collaborated with the leadership of the congregations for the furtherance of the gospel and perfecting of the saints. Integrity was one of the core values of his Christian ethics along with obedience to God and faithfulness in service. Without hesitation he contributed to ministries experiencing crisis aiding them both with spiritual guidance and financing to further spread the gospel.  His God given understanding and wisdom has led to deep fellowship and friendship with colleagues in the gospel ministry over the many years. Possessing the true virtues of a man who walked with God, Apostle Williams was a kind friend to those he encountered along the way. 
Apostle Williams went home to be with the Lord January 15, 2016. His absence is deeply felt, and his presence deeply missed.
Mother Ruth L. Williams was born on December 11 to Elder and Mrs. Walter Wilbur. She was raised in a Christian home where devotion to God and faithful church attendance and dedicated service were instilled by her parents.
Mother Williams life in ministry started at a young age. She travelled throughout Columbus, OH, neighboring areas and states with her father, an evangelist at the time.
As a young woman in her late teens and early twenties, Mother Williams labored well in both the secular and sacred areas of life. She worked as an apprentice in her father's funeral home. She used her skills to meticulously sew, and attach fabrics to decorate simply built coffins. Later, she worked at Curtis Wright Airplane Corporation, where she was responsible for the maintenance and repair of war damaged planes. Management was pleased with her attention to detail and work ethic. These skills served her well during her years in ministry.
While living in Ohio, she attended the Apostolic Church of Christ in Columbus where the late Bishop Carl F. Smith was the pastor. She was a dedicated worker on the Tarrying Committee and the Welcoming committee. It was on that committee that her outgoing personality drew the attention of Edward E. Williams. They married on July 22, 1944.  After living in Washington, PA and Columbus, OH, Mother Williams moved with her husband, Elder E.E. Williams, and their 3 young girls to Baltimore, MD. It was at first Apostolic Church of Christ, under the late Bishop Winfred Showell, the young family worshiped and learned more about church ministry.
Diligently working alongside her husband in church building and soul winning, with much prayer and guided by the Holy Spirit, the Williams family moved to New York City in the 1950's. It was after this move that a fourth child, a son, was added to the family.
During all of the ministry work that her husband undertook after moving to New York, Mother Williams committed herself to doing all that she could find to do to support the furtherance of the kingdom of God. She readily and gladly sewed Easter and Christmas costumes, decorating for performances and preparing food baskets for the needy.
Once the Pentecostal Church of God (PCOG) was started in 1968, she was passionately involved in everything from Vacation Bible School to Sunday school parades. She also coordinate fellowships and services with other churches under the leadership of Pastor Williams.
Her love for people and the Lord, lead her to continue working inside and outside of PGOC. From 1990-1994 she volunteered at Mahalia Jackson Junior High school, Kingsbrook Medical Center Adult Out Patient Day Care Facility and Christopher C. Blenman Senior Center. Her drive to broaden the horizons of others extended to herself as well. In 1992 she attended Manhattan Bible Institute, from 2004-2005 she attended the Community Bible Institute and received a certificate in Biblical Studies. 
Mother Williams is a living example of the Proverbs 31 woman. She exhibits the grace, beauty, studiousness and standards shown in those verses. As a virtuous woman of God, she believes that prayer and praise are essentials in growing in the knowledge and wonder of the Lord. With  poise, a gentle spirit and strength of character she continues to touch lives, especially those in her church and neighborhood. The Holy Spirit continues to lead her to bless others with words of encouragement and support on their Christian journey. She continues to be a blessing to PCOG through her platinum years. She encourages the family of God, her natural family and people she meets along the way. 
Mother Williams invites you to be a part of this ministry where you can grow in the Lord's grace.